Shifaa Date Syrup
Shifaa Date syrup made from the finest Emirates dates, free from preservatives and genetically modified materials.
Origin : Emirates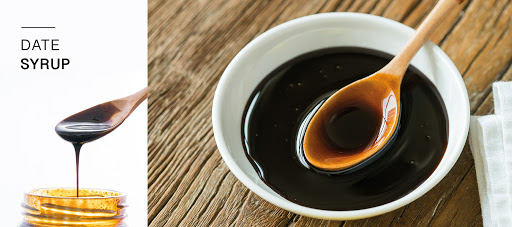 BENEFITS OF SHIFAA DATE SYRUP :
Lower bad cholesterol and thus prevent blood clots in arteries

Prevents cancer, especially gastrointestinal cancer, due to the high anti-oxidant content.

Prevents tumor, including brain tumor.

Promotes good digestions and the functioning of digestive organs due to its simple sugar.

A rich source of vitamins, especially vitamins A, B Complex and C which makes it an ideal supplement choice for women during pregnancy, while breastfeeding, after childbirth, in the post-partum period and during menopause.

A natural way to treat all sorts of anemia, especially iron-deficiency anemia, due to its high iron and magnesium content as well as other minerals. As an alternative way to treat dengue fever patient.
INGREDIENTS :
100% Natural.

No Colors Added.

No Sugar Added.

No Preservatives.
HOW TO USE:
Mix the syrup with hot or cold water as desired and drinks a refreshing glass of date juice made in this way.

Pour the syrup on bread and have it for breakfast or afternoon tea or even as dessert after lunch and supper.

.use the syrup as a healthy sweetener in milk, tea and herbal infusion tea.

dates syrup can be an ideal replacement for maple syrup on pancakes, waffles, etc., being both more affordable and more beneficial to one's health.

To make an ever richer supplements, mix Shifaa Dates Syrup with black seed oil or pomegranate concentrate and take tow to three tablespoons of this mixture per day. its delicious and nutritious.

For maximum results, you may consume 1 teaspoon of Shifaa Date Syrup just after you have performed the solat, 5 times a day.
WHERE I CAN FIND IT ?
Berkat Madinah Branches
Ampang - Kajang - Shah Alam
Order Online at:⁠
⁠
delivery.madinah.com.my⁠
KLANG VALLEY (within 90 mins)⁠
==========================⁠
shop.madinah.com.my⁠
WHOLE MALAYSIA (3-5 days)⁠
⁠
👇🏻👇🏻👇🏻⁠
ORDER THROUGH WHATSAPP:⁠
+60 11 1111 9912⁠